Pocket Heart (iPad and iPhone)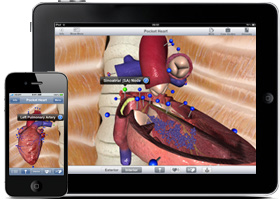 ✓ A novel way to visualize, hear and understand how the human heart works, in 3D.
✓ All anatomical content resides in the app (no need for wi-fi or 3G).
✓ 20,000 words of detailed learning content.
✓ Intuitive navigation (so you don't have to scroll through long menus)
✓ Multiple quiz types & options, enabling self-paced learning.
✓ Interactive engaging multimedia content.
✓ Universal Build – for iPhone and iPad


What People are Saying:
"Great for patient education, especially seeing the heart beat in real time"
★★★★★ – ThinkAnatomy.com
"Offers students a unique way to view the workings of the heart"
★★★★★ – GadgetRepublic.com
"Helpful to medical students, residents and clinicians"
★★★★★ – MedGadget.com
"Number 1 Science App"
★★★★★ – The Irish Times
"Pocket Heart is truly a good learning tool for cardiac anatomy and physiology"
★★★★★ – iMedicalApps.com
Our Commitment:
At Pocket Anatomy, we work with healthcare professionals, educators and patients to design meaningful and beautiful mobile medical education software.Pocket Heart is your premium medical education mobile reference tool. Redefining what engaging medical education content truly is, our award-winning cardio app, with its elegant design and over 20,000 words of learning material – assists medical, nursing and health care practitioners learn clinically relevant anatomy of the human body for examination, revision and patient education purposes.
Benefits:
+ Students: You can use this App as a study tool to help you brush up on your knowledge of the heart in preparing for your human biology exams.
+ Health Care Professionals: This app offers you a unique communication resource on which to demonstrate your diagnoses and surgical procedures to patients.
+ Parents: Use Pocket Heart as an educational aid in showing your children how the human heart works in a fun and game-like 3D environment.
Product Family:
Our suite contains the following medical education apps:
★★★★★ Pocket Body – Interactive Human Anatomy
★★★★★ Pocket Brain – Interactive Neuroanatomy
★★★★★ Pocket Heart – Interactive Cardiology
Continuous Improvement:
Unlike alternative human anatomy software, our apps have been co-developed with practitioners, educators and medical students (from storyboard phase right through to present day versions on the store). We see our range of apps as ever evolving, and we invite you, our external team members, to share your feedback with us on how to improve the content, usability and design of our apps.