F
ive years ago I even wasn't thinking about being a yoga teacher, (for nearly 10 years I had been content to be a student). But I felt I was missing something and I began to ponder about the origins of my yoga practice. My lifelong teacher and friend hinted I might be interested in the Teacher Training program as a way to deepen my practice, and I committed the following Fall. I felt immediately blessed to have an educator that was firmly rooted in yoga, anatomy, and Hanna Somatics.
Thirst for knowledge
A few months into this 200 hour program I knew this was extraordinary knowledge that needed to be passed on and that maybe I should consider teaching. I began to sense there was a very steep learning curve – particularly with the anatomy portion. I was a tech person by trade, so I probably should have seen this coming, but my thirst for knowledge in this particular area was already approaching a fever pitch.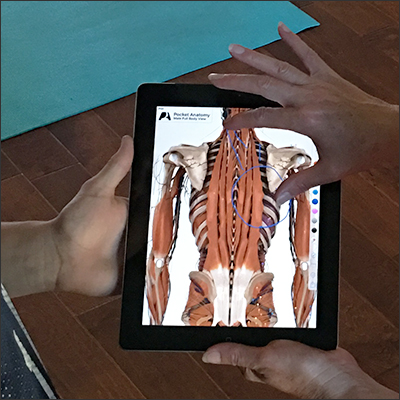 It was required that we either purchase an anatomy book or the app Pocket Anatomy. Easy decision for a tech gal, but the budget side of me cringed at the purchase price…I threw caution to the wind. The first few times I opened the app I was overwhelmed.
I did not have enough of a grasp on basic anatomy to be able to find the particular bones or muscles. In addition to my three-ring circus studies, I realized that I was now going to have to learn how to use this app!
I would gingerly open the app at night and play around with the features. Needless to say if you've used it – I became adept quite quickly and Pocket Anatomy and I began our lengthy friendship. When I discovered the notes feature, my iPad became the pinnacle tool for this component of my yoga training. My excitement at the detection of the testing feature cannot be understated. Suddenly mobile devices felt like massive books that could easily fill the largest corner of any library. My feelings of insecurity surrounding this subject began to slowly fade!
Fast forward. I completed my "basic" training with ease and began my teaching career. Each class found me questioning exactly which muscles, what bones were under influence in the poses that felt so familiar. I spent the next nine months experiencing my teaching and then enrolled in the advanced training program at my home yoga studio, Yoga Nook looking for more anatomical enlightenment.
Twelve months later, I feel like I have pierced the first few inches of the iceberg. Even after a total of 500 hours of training – a large portion of which were focused solely on anatomy and physiology – the subject seems deeper than ever. Humbled by my experience in studying the human body and yoga asanas (poses) and armed with unbridled enthusiasm, I have committed to sharing this with my students – particularly the young athletes that I enjoy working with. Pocket Anatomy on my iPad is always by my side and a perfect vehicle to visually show the student athletes the muscles we are focusing movement on and discussing in class.
Background:
Registered Yoga Teacher Kim Galbraith can be found online @littledogyoga. She teaches classic Hatha yoga and classes designed specifically for athletes weekly at Yoga Nook in Simi Valley, CA. Her lifelong passion for team sports and knowledge of the repetitive movements associated with the players' individual positions is what inspired her to focus on creating a yoga practice that promotes their physical and mental well-being.
_____________
You are looking forward to using the Interactive 3D Human Anatomy & Physiology app in your course? Discover more about our Discount for Educational Institutions.