Hello everybody!
The first month of 2017 has almost gone and the year looks already super exciting here at Pocket Anatomy with a lot of new stuff in the pipeline!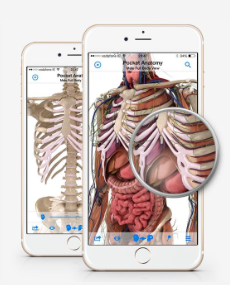 We are all hustling and bustling to constantly improve and update the software (from graphics to content), and to prepare special events for future users who want to familiarise with the app.
Yeah! When you go to a clothes shop, you always get to try garments on to make sure they fit, before buying them. And we have decided to do the same: you'll have a chance to have a closer look at the app functions so that you can decide beforehand if Pocket Anatomy is what you are looking for, thanks to a live free demonstration.
Through years, among the many medical professionals who left a positive review are interpreters working in healthcare. They found if very useful and effective to break down language barriers, during doctor-patient consultations.
Therefore, the first webinar of the year is kindly hosted by ECPD Webinar, an educational platform specialised in training for translators and

interpreters.
If you want to attend or receive the replay directly in your inbox, fill in the form here.
The webinar will take place on Thursday 2nd February at 2 pm (CET) and will last a maximum of 60 minutes.
Only 100 people will be able to attend the event live, while the others will receive the replay link.
So, join us before it's too late!
See you on Thursday
P.S. clic on this link to register.