AWARD-WINNING
Pocket Anatomy's award-winning 3D visual software solution is the Google Earth of the Human Body, facilitating doctor-patient diagnoses communication and promoting patient well-being and personal healthcare understanding. The picture below shows CEO, Mark Campbell, receiving the Best Tech StartUp award in Amsterdam at The Next Web's Europe Conference in April 2014.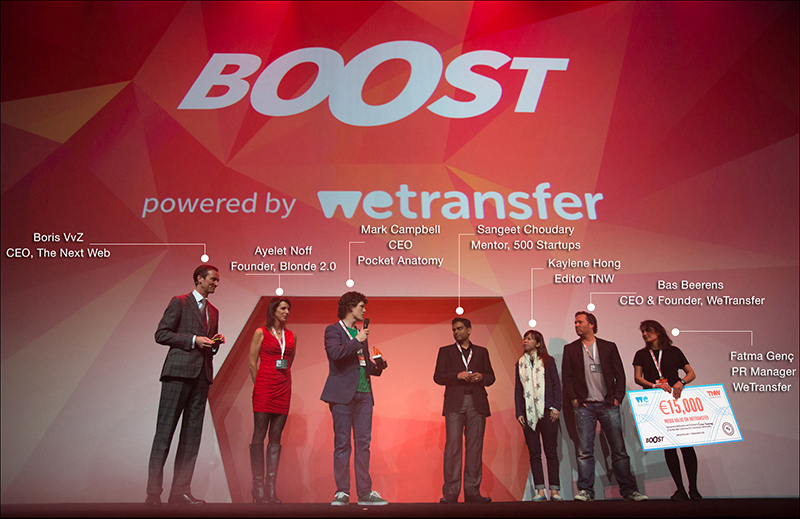 ADVISORY BOARD
Pocket Anatomy is supported by world-class advisors, investors, and experienced company builders who have helped create, develop and provide leadership in some of the world's most successful companies.


Dr. John Breslin, Lecturer in the School of Engineering and Informatics at the National University of Ireland Galway
John Breslin is leader of the Unit for Social Software at DERI, the world's premier Semantic Web research institute. John is best known for being a co-founder and director of boards.ie Ltd., Ireland's largest discussion website. John has won two IIA Net Visionary awards for his work on boards.ie and spin-off classified ads site adverts.ie. More recently, John co-founded US company StreamGlider Inc. with web entrepreneurs Nova Spivack and Bill McDaniel, a real-time streaming newsreader that can be private-labeled for content publishers on tablets.


Alex Campbell, Head of Sales, BT, Ireland.
Alex has been in the ICT industry for over 25 years. His current roles are as Sales Director in the telecoms industry and he also has extensive experience in all aspects of general management up to Director and VP level. He has held previous executive roles with Eircom, IBM, General Motors and indigenous software companies both locally and internationally. His main areas of interest are: Sales Delivery/Performance, Technology Start ups, Computing & Telecommunications and International Sales. He also currently serves on the advisory board of a number of technology companies.


Dr. Seán Conroy BSc (Physics) HDipEd MB BCh BAO LMCC
Seán has extensive medical, management, teaching and writing experience; Director HSE West Regional Health Office, Medical Director St Clare's Mercy Hospital St John's Canada, family and occupational health physician, health service accreditation surveyor, teacher and lecturer.


Paul Gilson, CSO at Novate Medical, Galway.
Paul is a Medical Device entrepreneur. Raised €60+ million of VC funds in UK, US, EU and Ireland. Currently Co-founder and CSO at Novate Medical, a Galway based medical device company developing IVC filter technology and CSO at Veryan Medical, an Imperial College spin-out developing next generation SFA stenting products. He was a co-founder and General Manager of MedNova and was responsible for the development of novel stroke treatment technologies. The Company was acquired by Abbott Laboratories. Prior to his experience in start-up companies he held a number of senior roles in Operations, Development and R&D. He is the holder of more than 30 patents for bio-materials and cardiovascular products.


Areo Saffarzadeh, University of California, Irvine
Areo is passionate about the overlap of technology and medical education and played a key role in the implementation of the first iPad program at a US Medical School. He has worked internationally as a medical education consultant and instructional designer, and has led workshops on incorporating technology into medical education. Areo is in his final year of medical school at the University of California – Irvine while concurrently finishing a Master's Degree in Educational Multimedia.
ACKNOWLEDGEMENTS



Rory O'Connor, Former CEO Hewlett Packard Galway and friend and mentor from 2011-2014.
Rory held a variety of technology and senior management roles in the Irish Times, Digital, Compaq and Hewlett-Packard. With a strong track record in business innovation, he was a co-founder, on behalf of HP, of the Digital Enterprise Research Institute (DERI) at NUIG and participated in a governance capacity on other Science Foundation Ireland backed research clusters. Sadly, Rory passed away on Sunday 8th December 2013. He will be forever remembered for his amazing intellect, inclusive innovative spirit, and great sense of humour. Ar dheis Dé go raibh a anam uasal.