Since the launch of both iPhone and iPad, we here at Pocket Anatomy have been exploring and creating innovative ways to harness groundbreaking technologies and create exciting, stunningly visual and highly interactive medical education apps.
With backgrounds in medicine, game development, and 3D animation, we hope to harness elements of gaming and game-based learning to promote the understanding of medical education and healthcare.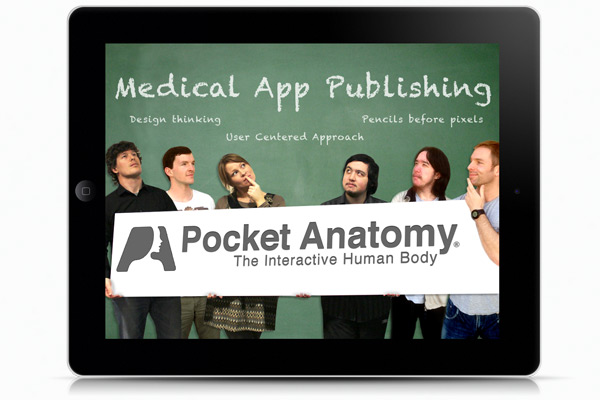 Currently our products encompass a range of medical education software applications to assist medical students, healthcare professionals, and the general public in visualizing the complexities of the human body in a novel format. The first three products in this suite of medical education resources include "Pocket Brain", "Pocket Heart" and our flagship "Pocket Anatomy".
Created to help anatomy and biology students study and understand the inner workings of the human body in a more fun and engaging way, Pocket Anatomy learning tools are also popular amongst doctors, nurses and healthcare professionals as communications tools when meeting and explaining diagnoses and conditions to patients and their families.
Our apps enable users to absorb medical anatomical content at their own leisure wherever they are, and our glorious use of interactive 3D results in a more engaging and immersive experience than when accessing traditional static 2D learning content.
Not content to rest on our laurels however, the team at Pocket Anatomy are constantly pushing the boundaries of what is capable with technology. Unlike many publishers, we openly welcome and accept feedback and suggestions from our dedicated community of users. Many of these ideas then feed into future iterations and improvements to our existing apps while some even result in new and exciting arrivals.
At Pocket Anatomy, you ask, we listen. For more details on each of our apps, check out the App Store.
Superb, A+ product.

I have tried other med apps but keep defaulting to Pocket Anatomy as my reference point. Comprehensive, detailed content & highly detailed graphics make this an A+ product.

Well done and keep up the fantastic work Pocket Anatomy!
Doris M Heibner