Pocket Anatomy was unveiled today – an Apple Application designed to assist busy medical and health care students learn clinically relevant human musculoskeletal anatomy and assist these students prepare for, and be successful in, their human anatomy examinations.
Pocket Anatomy: What a Piece of Work is Man! from PocketAnatomy on Vimeo.
Pocket Anatomy has launched Pocket Body – their latest application (app) for medical students and other health care professionals on Apple's App Store. This medical software, features comprehensive human musculoskeletal anatomy content by means of a multi-layered sequence of high-definition photo-realistic illustrations of the human body and is a breakthrough in human anatomy education.
Pocket Anatomy features a fully anatomically accurate human character with nine layers of musculoskeletal content, enabling the user to navigate from the skin layer through the superficial to deep musculature, and on through to ligaments and the skeleton. In each layer, structures are pinned for identification and associated with each pin is additional concise relevant information including clinical notes. All of the information is presented in an interactive, mobile and accessible format which takes full use of the features of the device on which the app runs (iPhone, iPad or iTouch). This is a marked contrast with the two-dimensional (2D) printed pictures and diagrams commonly used in the teaching of advanced human anatomy today. Additional features allow the user to make learning notes as they progress through the learning content, and also utilize the built-in quizzes as a self-test capability to assist in their learning and exam preparation.
Pocket Body will assist medical and other health care students gain a deep understanding of human musculoskeletal anatomy and assist in their examination preparation. By making comprehensive human musculoskeletal anatomy content available on demand it will also act as a continuing anatomy resource throughout their degree program, and as a reference on into the professional workplace.
Mark Campbell, CEO of eMedia and creators of Pocket Anatomy says:
"We are excited with the launch of Pocket Body, which has been co-developed by medical students for medical students. This new software enables medical students to visualize complex anatomical structures in a novel format and gain a deep understanding of the human musculoskeletal system through the use of interactive high definition illustrations of the human body.
As medical students and educators continue to embrace new technologies in their teaching and learning practices, Pocket Anatomy will continue to push the boundaries in the use of new technologies for the purposes of medical education."
Pocket Body is now available for the iPad, iPhone and iTouch at $14.99 (iPhone/iPod Touch) / $19.99 (iPad). To purchase and download Pocket Body please visit https://www.pocketanatomy.com/itunes.php

About PocketAnatomy.com
PocketAnatomy.com develop applications to assist medical students, healthcare professionals, and the general public in visualizing the complexities of the human body in a novel format. PocketAnatomy.com was created in 2009 by Galway-based Interactive Media Design Company, eMedia Interactive Ltd.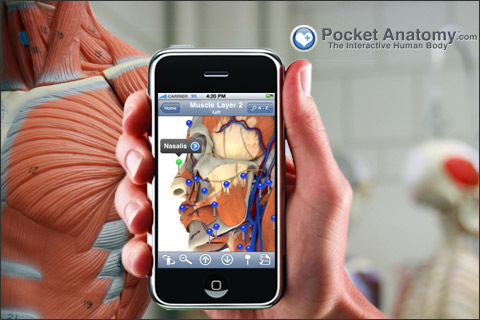 eMedia is an award-winning Interactive Media Design Company, specializing in 3D medical animations and interactive technology enhanced learning resources for Irish medical device companies and medical training institutes in Ireland, UK and USA.
To watch a video demonstration and learn more about Pocket Body please visit: www.PocketAnatomy.com
Full press kit with print-resolution images of Pocket Body available on the Pocket Anatomy website: www.PocketAnatomy.com/presskit
For further details please contact:
Mark Campbell
eMedia Interactive Ltd
Phone: +353 91 442027
e-mail: hello@pocketanatomy.com